Intra-municipal cooperation : reflections on the (re)integration of collective land ownership systems in the territorial action
La coopération intra-communale. Réflexion sur la (ré)inscription des propriétés collectives dans l'action territoriale
La coopérazione « intra-comunale » : riflessioni sulla integrazione delle propriétà collettive nelle azioni territoriali
We can draw inspiration from shared ownership land systems in order to renew certain public policies without losing sight of administrative efficiency. This study highlights the idea of intra-municipal cooperation (relative within the municipality). It aims to place on the right level both the action and the organisation of communities linked to collective land ownership systems. A renewed public-private partnership can find a legal translation in at least three ways : by establishing or restoring the institutional link between collective property and the other territorial bodies, by promoting a principle of horizontal subsidiarity – inspired by the Italian example –, and by considering the possible extension of the French legal notion of 'collaborateur de service public'.
Il y a matière à puiser des sources d'inspiration dans les systèmes fonciers collectifs afin de renouveler certaines politiques publiques sans perdre de vue l'efficacité administrative. En mettant en avant l'idée nouvelle d'une coopération intra-communale (relative au-dedans de la commune), il s'agit de placer à la bonne échelle tant l'action que l'organisation des communautés liées aux propriétés collectives. Un partenariat local public-privé renouvelé au service de l'intérêt général peut trouver une traduction juridique d'au moins trois manières : en instaurant ou restaurant un lien institutionnel entre les propriétés collectives et les autres acteurs du territoire, en promouvant un principe de subsidiarité horizontale – inspiré de l'exemple italien –, et en s'interrogeant sur la possible extension de la notion de collaborateur de service public.
Vi può essere motivo di riflessione dai sistemi di proprietà collettiva per rinnovare alcune politiche pubbliche senza perdere di vista l'efficienza amministrativa. Proponendo la nozione di cooperazione « intracomunale » (relativa all'interno della « commune »), si tratta di porre al giusto livello sia l'azione che l'organizzazione delle comunità legate alla proprietà collettiva. Si tratta di considerare le comunità e di includerle nel sistema dei procedimenti di interesse generale. Un partenariato rinnovato pubblico-privato può trovare una traduzione giuridica in almeno tre modalità : stabilendo o ripristinando il legame istituzionale tra proprietà collettiva e le enti locali, promuovendo un principio di sussidiarietà orizzontale – ispirato al modello italiano –, e consentendo la possibile estensione della nozione del diritto francese di « collaboratore di servizio pubblico ».
Fichier principal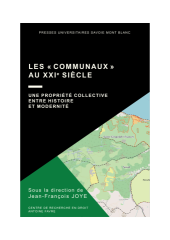 Joye coop intracomm 2021.pdf (32.22 Mo)
Télécharger le fichier
Origin : Explicit agreement for this submission