The inappropriateness of the cadastral income as a criterion for considering the constitution of 'commissions syndicales' of the 'sections de commune
L'inadaptation du revenu cadastral comme critère permettant d'envisager la constitution des commissions syndicales des sections de commune
L'inadeguatezza del reddito catastale come criterio per considerare la costituzione dei « commissions syndicales » delle « sections de commune »
Abstract. The inappropriateness of the cadastral income as a criterion for considering the constitution of 'commissions syndicales' of the 'sections de commune' Among the various measures it took in 2013 to gradually phase out local authority sections, the French legislature has tightened up the conditions for setting up their 'commission syndicale'. One of these conditions is that the section must have a minimum annual 'cadastral income'. However, not only because the minimum amount of 'cadastral income' is a questionable one, the very criterion of cadastral income is unsuitable in view of the paradigm shift surrounding the renewal of the social and environmental functions of the 'communaux'. 'Cadastral income' is an abstract, outdated construction, disconnected from the activity or quality of the current assets of the 'sections de commune'. It does not take into account any real income nor, even more fundamentally, the environmental services they provide.
Parmi les différentes mesures qu'il a prises en 2013 pour éteindre progressivement les sections de commune, le législateur français a durci les conditions requises pour pouvoir constituer leur commission syndicale. Une de ces conditions est que la section dispose d'un minimum de « revenu cadastral » annuel. Or, non seulement le montant minimum de revenu cadastral fixé à dessein par la loi est discutable, mais le critère même de revenu cadastral est inadapté au regard du changement de paradigme entourant le renouveau des fonctions sociales et environnementales des communaux. Le revenu cadastral est une construction abstraite, surannée et déconnectée de l'activité ou de la qualité des biens actuels de la section. Il ne tient compte d'aucun revenu réel ni, et c'est plus fondamental encore, des services environnementaux que les communaux peuvent rendre.
Riassunto. L'inadeguatezza del reddito catastale come criterio per considerare la costituzione dei « commissions syndicales » delle « sections de commune » Tra le varie misure che ha adottato nel 2013 per estinguere gradualmente le « sections de commune », il legislatore francese ha inasprito le condizioni richieste per poter costituire la loro « commission syndicale ». Una di queste condizioni è che la « section » abbia un « reddito catastale » annuo minimo. Tuttavia, non solo l'importo minimo del reddito catastale fissato è discutibile, questo criterio è inadeguato di fronte al cambiamento di paradigma che circonda il rinnovamento delle funzioni sociali e ambientali dei « comunaux ». Il reddito catastale è un criterio astratto e superato, scollegato dall'attività o dalla qualità del patrimonio attuale della « section de commune ». Non tiene conto di alcun reddito reale né, ancora più fondamentalmente, dei servizi ambientali resi.
Fichier principal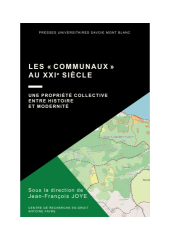 Joye comm syndicales 2021.pdf (12.35 Mo)
Télécharger le fichier
Origin : Explicit agreement for this submission